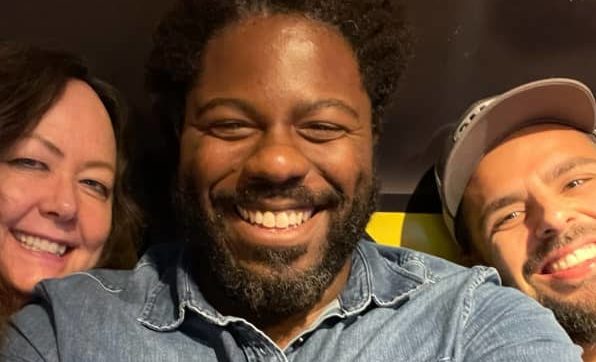 And I host my last Local Licks show.
Jo James was in the studio, and he brought along Scott Strickland. They'll both be performing this Saturday (9/9) at Antone's for Jo's album release show. The new Jo James album comes out Friday; it's entitled Found My Way.
We played:
Jo James – "Beautiful Soul" (Found My Way)
Jo James – "Down To The River" (Found My Way)
Scott Strickland – "San Francisco"
The Bluebonnets – "You Make Me Shake" (Tonewrecker) Kathy Valentine and Eve Monsees from the Bluebonnets are part of the live band onstage for the musical Head Over Heels, featuring the music from The Go-Go's (Kathy Valentine was the bassist for the Go-Go's.) Head Over Heels runs through Sunday at ZACH.
Billy King and the Bad Bad Bad – "Re-animated"
Matthew Logan Vasquez – "Can You Turn Me Up" (As All Get Out)
Ray Prim – "Bad Guy" cover of the Billie Eilish song
This show was my last Local Licks show. I will mourn the loss of it–it's been my favorite thing for many years, and I feel so blessed to have been able to hear and share so much incredible music from the huge talent pool that exists in Austin, Texas. I'll also miss all my co-workers and the friends I've made in the decades that I have worked in this building. I love you all.
Thanks for listening.
~LL
Storyville – "Good Day For the Blues" (A Piece of Your Soul)