SAFE Alliance has a mission to Stop Abuse For Everyone. They support survivors of violence, abuse, and trafficking in the Austin community. Reach out to SAFE 24 hours a day via their SAFEline (512-267-7233) if you are a victim of child/domestic/sexual, abuse. The SAFE Alliance is available for counseling, face-to-face emotional support, legal services, and more. Every year, the Austin community comes together for a 24 hour fundraising push to support nonprofits. This year, Amplify Austin will take place March 5-6th.
FOLLOW @BDOEROCKS | LISTEN 10a-3p | MORE klbjfm.com
Heather Henry, SAFE Development Officer, stopped by Local Insights to spread the word about all the great work SAFE Alliance does for our community and how YOU can help support them on Amplify Austin Day!
To learn more about the SAFE Alliance, donate goods, or volunteer your time, visit SAFEaustin.org.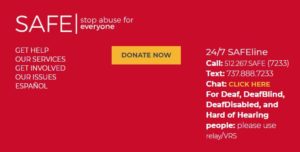 You have a chance to help SAFE Alliance help Austinites in need on Amplify Austin Day, March 5-6th.


@SAFEatx – @BDOEROCKS – Fbook/BDOEROCKS – IG@BDOEROCKS – FBook/SAFEatx