Art Randle is an Austin artistic legend. Come at me if you disagree. Do you remember going to bars? Hopefully, we will be able to once again sooner than later. If you were enjoying yourself at your favorite wateringhole, music venue, or nightclub, you might've been Art'ed. Art Randle is the KING of Austin's candid-scene art. He would just walk up to you or your group and hand you a beautiful ball point pen portrait. You'd look at it and it would be you and your friends. You left with a priceless piece of your history and I
I was having a beer with a bud a while back and that same thing happened to me. This was the first time I actually was face to face with Art. I had heard about him a million times from friends in the bar industry. His art pieces were familiar to me, but never had I been in front of the man after becoming an 'Art Piece'. There's no set schedule on where Art will be, but if you listen closely you'll know where you might find him. Unfortunately, some of the bars he used to frequent aren't around anymore. But if there's a social scene happening in Austin, Art will be there to capture the moment! The best part is Art's a Rowdy Rocker! Here's audio of the conversation I captured with Austin Artistic LEGEND. Cheers, Art!
Send me a photo of your "Art" piece to my socials or BDOE@klbjfm.com and I'll add it to our Art Gallery!
Art is an Austin Artist
I was looking for Art's facebook page and ran across this article from local street and photojournalist, Camille J. Wheeler. Honestly, I haven't had the heart to drive downtown since the shelter-in-place order. My stomach couldn't handle seeing our entertainment district "shuttered". But apparently Art was busy making art at one of his regular stops, The Blind Pig Pub. Did you see his mural? Is it still there? I look forward to running into Art again someday. Til then, check out this piece by Camille as she documented Art's work down on 6th St. (photo cred: IG@CamilleWheels)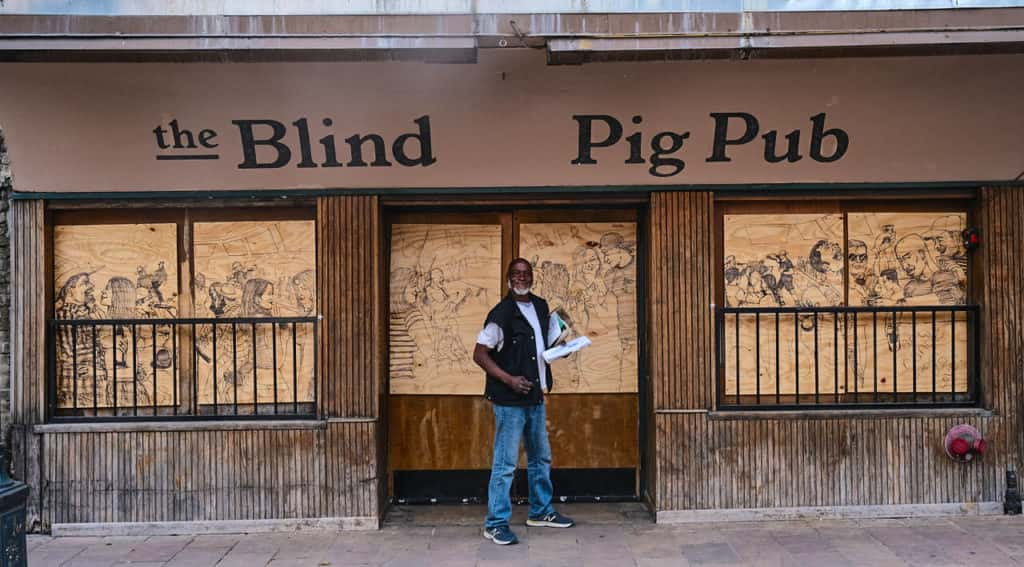 IG@Camillewheels – IG@BDOEROCKS – @BDOEROCKS – FBook/BDOEROCKS – Fbook/ArtRandle
Did you survive your first shelter-in-place order? Did I? Anybody know what day it is today??? Here's a few things I did whilst attempting to make it through quarantine life.